The Ranch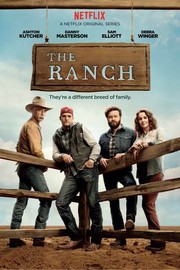 The Ranch is an emotional roller coaster with more highs than lows.The humor is very relatable for those who come from close families. The dysfunction and love is what captures the family bond. Sam Elliott (Mr. Bennett), does an amazing job in reminding the audience of the days when the patriarch was the law in the home in a warm way. He brings a presence of respect and love which is something most viewers have experienced either with a grandfather, father or uncle. The Bennett Boys do a great job in mimicking young men being molded for great men. The show is not a typical sitcom as it tends to have some drama/soap moments that lead up to the next shows. I highly recommend binge watching it.
House Of Cards
HOUSE OF CARDS has finally returned to Netflix, with season 5 promising to be the darkest yet. Here is everything you need to know about the new series including its release date and time, trailer, cast and more.

Foyles War
Set during World War II, this crime drama follows police inspector Christopher Foyle, who learns that crooks don't stop for anything -- not even war.

The Family Guy
In a wacky Rhode Island town, a dysfunctional family strive to cope with everyday life as they are thrown from one crazy scenario to another.